Fortnite is one of the most
popular
video games in existence, standing on Mount Everest with other prevalent franchises such as Tetris, Minecraft and Grand Theft Auto to name a few, and with every popular game grows a fandom who produces fan art of their favourite characters or in this case skins.
It's also a known fact that each fandom has a filthy or shall we say weird side of the spectrum that is often frowned upon by the normies yet ironically in the same breath sought after in high demand depending on where you look.
No not we're not talking about the abundance of rule 34 and futa shenanigans, that's another story for another day, we are in fact talking about the niche community of 3d artists who create feet and giantess fetish art of Fortnite characters in source Filmmaker also known as my world.
Beyond the world of sfm artists who make posters and wallpapers on twitter is a less exposed community of fetish artists who mesh feet onto their favorite skins and abuse the scale feature in Source Filmmaker.
I can't speak for the few other gts artist who made renders and I won't, but personally for me it's an extremely fun and exhilarating experience shrinking tiny skins to be at the mercy of their larger than life counterparts. It's been that way ever since I joined Deviantart in 2016 and created my first giantess render.
Fortnite's art style and it's gorgeous Unreal Engine aesthetics are like candy to the eye and while newly designed character skins can be hit or miss, due to how diverse the game's cast of characters are, there's something for everybody and that's one of the biggest charms about the game that drew me in, besides the battle royale mode itself.
The first character whom caught my attention in the game was the Banshee skin, a cute dark skinned female soldier with a pixie haircut, but alas I wouldn't get my hands on her until a year and a half later, a model which I had to extract myself with Umodel.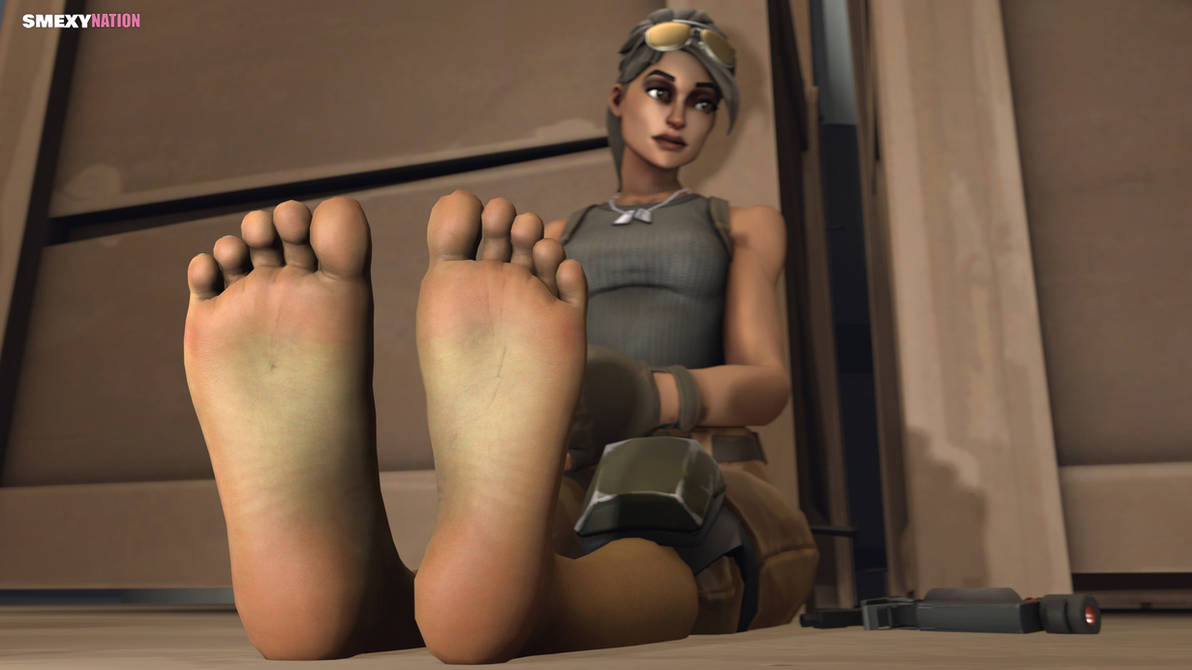 Though the first model which got the ball rolling was the default Ramirez skin due to a modeller porting it to the steam Source Filmmaker workshop and with her I created the first foot fetish focused Fortnite fanart. It was initially also the first ever Fortnite SFM model to exist.
While a cute skin I quickly threw bored of her and wanted more variety, especially when playing the game and seeing all those gorgeous skins Epicgames kept farting out the hole, and as time when on my wish was eventually granted as other porters started crawling out the woodwork.
As you may be already be aware models are not barefoot by default and it's rare that you'd find a barefoot character unless their model was designed with fan service in mind, such as a
swimsuit costume
. So if you haven't already worked it out, 3D foot artists normally have to bodyswap feet onto characters from another existing model, unless the character already has a barefoot mesh.
Today you can find almost any Fortnite skin you want on the SFM workshop or alternatively Garry's mod, and if nothing whets your appetite then you have the chance to extract the game files yourself with Umodel, a viewer and extractor software tool for unreal engine. Though this wasn't always the case.
Back before models weren't as accessible to 3D artists and there wasn't as many porters on the scene, favouritism played a heavy part in what models were ported early on and it's for this reason I decided to take a break from the Fortnite art scene, patiently waiting and hoping to finally get my hands on a Banshee skin, though she never arrived.
While a tedious task, today I'm thankful she was never uploaded at the time I needed her because in turn it forced me to learn how Umodel works and extract models myself, relying less on model porters who ninety nine percent of the time port models through a biased lens.
As an 3D artist who works with predominately ebony and dark skinned female characters I'm always excited to see new black female skins included in the battle pass or available to purchase from the item shop as a featured item, though unfortunately it's not often that Epicgames releases one.
Regardless, I've had a blast with the few that have been released and I have managed to obtain and animate them in Source Filmmaker. The first one to be ported was Bunny Brawler but due to her furry outfit it was quite difficult to make anything foot related with her. Shortly after Steelsight appeared and the fun began.
Her arrival and more importantly her character design gave me the motivation to jump back in and thus I created my first Fortnite giantess render in July of 2018, several days after the model was uploaded to SFMLAB. Steelight's appeal for many was her
booty
, though for me it was her whole look from head to toe. She not only looked badass but was cute as hell.
Though the model came with a world of problems that unlike now I was unable to fix, such as a lack of ambient occlusion and poor rigging, I was just excited to finally have an ebony female character to use and thus I had her sit on a shrunken Tekinque, along with slightly inflating her glutes.
With the tiny skin strapped to the chair with tape as she looked up and patiently await her fate, Steelsight looks down at her victim and in a sequence I had her remorselessly sit on the shrunken victim entirely, making sure to show a pov of the not only her ass but also the smaller skin. Rarely do I make comics as I prefer animating but this worked.
Still not finished turning her out I created several more artwork featuring her, one which focused on her holding up her barefoot with a shrunken Triple Threat skin stuck to it. Whilst also making a barefoot only variant on Tumblr.
Not forgetting the butt crush animation I also made which Deviantart mods decided to delete and erase from their website due to a supposedly violation of their policy. She soon after became a background character as I had done all there was to do with her.
Deviantart not only gave me my giantess fetish but also a stronger affinity to vore. And with the next skin in my sights I created my first Fortnite vore animation featuring the then flavor of the month and cowgirl skin Calamity. I'll admit that I couldn't work out her race but she had a tan so that was good enough for me.
As I played with her in Source Filmmaker dozens of ideas came to fruition but in the end I settled on having her devour a shrinking skin, accompanied by Triple Threat and Ramirez, both girls whom cruelly watched her eat the tiny skin and not once intervene, even for Triple Threat to offer her a soda at the end to completely wash down her victim.
I love making buttcrush animations and one of the thickest looking skins in Fortnite is bunny brawler and I didn't pass up the chance to make a buttcrush animation with this cutie, for obvious reasons. One being that it was hard as hell to mesh feet onto her.
I'll also admit this was one of the hardest animations I had ever attempted to make due to sitting being an absolute pain the ass to animate, you can ask several sfm animator what's one thing they have problems with and I'm sure animating a sitting position would top the list.
Either way somehow I managed to create a somewhat decent sitting animation (something I haven't been able to do since), making the Bunny brawler unawarely sit on and squash a shrunken headhunter beneath her buns of steel. Of course not forgetting to include a pov of her backside and alternative shot of the crushing peril.
At the time with a lack of available black skins in SFM or Xnalara I had to take manners into my own hands as previously stated and with the help of umodel I finally managed to obtain Banshee in all her glory. Though at this point I didn't really have anything planned for her despite needing her so badly before.
Eventually I settled on creating some more vore, featuring the cutie banishing a tiny default soldier to her stomach region. The model I had ported was by no means perfect and had a lot of problems but I felt so accomplished using a model I had ripped from a game and ported to Source Filmmaker myself.
Teasing the viewer as she stuck her tongue out with the tiny resting on her tongue before being swallowed whole was something I really enjoyed animating and only added to the few Fortnite vore stuff already available. I finally had Banshee and in the end it was well worth it.
I could go on and on about the animations I have created but maybe it's better you see them for
yourself
. My favourite skin of all time is the 100 tier Luxe skin from Season 8, a character I consider to be the hottest skin and like many she has grown on me.
Being my favorite skin she's appeared in nearly all my recent Fortnite content, ranging from feet pics, giantess crushing, heck to even a vore belly sequence I made exclusively for Aryion. It's just something about her design that makes her the perfect goddess and in my book she's definitely one of the hottest
ebony
video game characters of 2019.
There's just something about her design that gets me extremely giddy and I'm gutted that I never took the opportunity to work my ass off and claim her from the season 8 battle pass when I had the chance.
To conclude, the more black skins that Fortnite comes out with is the more Fortnite feet pictures and giantess animations I'll come out with and thus far nothing has caught my attention in season 10, and there's a reason for that, an obvious reason that even you should be able to work out after reading my dribble for x amount of minutes.